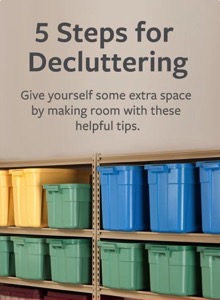 We just found out we are moving. A new job in a new city and now FREAK OUT. We have to declutter and stage a home we have lived in for fourteen years. When I first came home after we got the news I looked around and was suddenly overcome by the urge to set fire to the whole mess. Obviously this is not an option so I got to work doing what I do best. Research and planning. First an foremost on my list is to not look at the whole picture but to tackle one room/area at a time. I made the following list of tips to not just ease my mind, but to hopefully help all of you get a game plan together and tackle the clutter and get the most out of your home.
Here are five steps that can help make the process more manageable, efficient and, perhaps even fun. Plus, simplifying now will make moving that much easier.

Start small & choose one area at a time. If you attempt to organize your entire home in a day, you'll end up fatigued and frustrated. Instead, choose one area to focus on, like your linen closet. Decide whether you want to save, donate or toss your towels, sheets and blankets.
Pre-pick donation sites. Call ahead to see what they will and won't accept. Locally, I chose Needs Cleveland. A non profit that gives all their donated items away for free. Just this knowledge that our stuff will go to families in need is makes the process easier and there are many shelters in the city as well that could need children's clothing and other items like blankets & books
Rent a dumpster. Consider renting a dumpster to help you as you sort through clutter, room by room. They're also handy for disposing of remodeling materials you may have accumulated over the years – old carpets, extra tile, broken items from around the house. Pitch anything that is broken or no longer usable.
Deal with electronics and hazardous materials. Look for special collection days in your area for electronics, including old computers and video game systems. Make sure you wipe data off of old hard drives and phones before disposing of them. Hazardous material collections are a good place for old paint, thermometers and other chemicals.
Edit each room from the buyer's perspective. After the hard work of organizing and decluttering room by room, approach each area from the perspective of a buyer. Pack away knick knacks, photographs and other items that distract from the space itself. If you miss having them around, you can choose to bring them with you when you move. If not, you'll know you're ready to say goodbye.
These five steps will have you well on your way to a decluttered house that will be more attractive to prospective buyers. Now that you have gotten back to the basics, now would be the perfect time to schedule a pre-listing inspection from Inspection Tech! Get a head start on what prospective buyers might uncover when they book their inspections. We have 20 inspectors on staff here to serve you and assist in making sure your home is not just visually staged but also physically up to code and ready to sell.
We service all of Northeast Ohio so give us a call today 440-465-0448
Interested in Learning More?